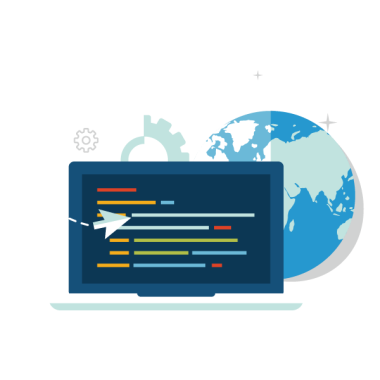 Dynamic Content Management Websites
Nowadays everyone want full control on the website, customers want that they can manage the regular updates to their website themselves, which is more convenient and cheaper option. HTML Websites are now past, because they're difficult to manage and not so friendly. We make websites in almost all kind of Dynamic CMS platforms like wordpress, joomla, drupal, ModX etc.
There are two main types of websites - static website and dynamic website. A static website is one that is usually written in vanilla code i.e HTML/CSS and what is in the code of the page is what is displayed to the user. A dynamic site is one that is written using a server-side scripting language such as PHP, ASP, JSP, or Coldfusion. Dynamic website designing requires through knowledge, creativity and our developers are experts in their own website design and development field, who can Develop dynamic website using different scripting language, preferably php/mysql and make your website good looking, traffic retaining, easy to navigate and flawless.
Advantages of Dynamic Website
One can add and manage contents, stories, information, photos and videos anytime without the help of developer/designer.
One can add new pages and sections as needed and save money and time.
Site administrator can manage visitors in a better way to retain them for long-term such as,
Create member only section and allow member to manage their own pages.
Manage Blog Posts and Comments
Manage Products/Services and much more...
PHP and JS Development
We provide software development services in: PHP, Meteor, JavaScript/ jQuery and other modern technologies.
E-commerce Solutions
Our company has successful solutions to develop ecommerce and shopping cart software for online businesses.
WordPress, Joomla, Drupal
We develop content management systems (CMS) to enable you to manage site content effectively in any of the platforms.
Technology Consulting
We can design, define and execute IT strategies to build best brands, win customer engagements and drive business growth.
Open Source Integration
We create best-in-class email marketing software to create, send and track email campaigns that will earn results.
Cloud
Our expertise help you optimize, deploy, build and migrate to cloud on the latest and the fastest cloud computing systems for increased speed and round the clock up-time.
312
Websites for TOP 500 companies
17
Complex intranets for corporations
97
Popular Facebook applications
74
E-mail marketing strategies
36
Experienced Web Development Ninjas
Cross-platform and responsive web development
We provide rigorous testing for all major device types as well as browsers and operating systems before we launch your new website and sign-off the project. Testing is performed both as a user and as an administrator to ensure your site is modern and responsive.
Secured testing environment for your web project
We use complex content gathering tools that allow visualizing content in terms of site architecture, to which we'll make changes within your team before it goes live. Also, you have access to a secured staging or testing environment of your site which is hosted on our servers during the process of your creation.
Tell us about your project
Let us help you get your business online and grow it with passion
Harness the full power of open-source frameworks, contact us and get a bespoke content-manageable website that suits exactly your needs and requirements.
"I wanted to take minute to express my appreciation for these folks at Corporate Web Technologies. We chose them out of a long list of seemingly capable companies to handle our SEO needs and I experience high availability, fast responses, and great communication."
"These guys are simply the best. They have been very good at the execution and it was awesome experience to work with them."
Jason
CEO & Founder (newyorklimocar.com)
There is no form with title: "SEOWP: Free analysis request". Select a new form title if you rename it.